Ghost Towns
Animas Forks
St. Elmo
Floresta
Crystal City
Summitville
Holy Cross City
Alpine Tunnel
Vulcan
Shavano
South London
Independence
Ashcroft
Telluride
Alta
Carson
Tomboy Mine
Ironton
Iris
Bonanza
Silverton
Passes
Engineer Pass
Cumberland Pass
Mosquito Pass
Cottonwood Pass
Independence Pass
Ophir Pass
Monarch Pass
Imogene Pass
Cemeteries
Crested Butte
Whitepine
Glenwood Springs
Ophir
Creede
Exchequer

About Haunted at Timberline
About Creede Cemetery
Return to Creede Cemetery main page
Creede epitomized the boom-to-bust cycle of mining towns in Colorado at the end of the 19th century. The Holy Moses Mine near Creede was the last big silver strike before Congress repealed the Sherman Silver Purchase Act in 1893, which destroyed the economic base of many Colorado mining towns, including Ironton and Whitepine. Before the crash, the Denver and Rio Grande Railroad had recently arrived, and the population of the town skyrocketed to more than 10,000—huge by any standard at the time.
According to Sandra Dallas, author of Colorado Ghost Towns and Mining Camps, the railroad brought more gamblers, bunco artists, dance-hall girls, and prostitutes than it did miners, by a ratio of 3-to-1. "Tempers were short in Creede," Dallas writes, "and the usual way to settle differences was with guns." Thus the Creede cemetery saw a lot of business, and includes the legendary Bob Ford, who shot Jesse James in the back (killing the famed outlaw). Bat Masterson also roamed the streets of Creede, though he is not buried in the cemetery.
Today Creede thrives as a tourist town, still tightly packed into its narrow corner at the bottom of a towering river canyon, the beginning of which is shown in the top left photo below. This photo shows the remnants of the Commodore Mine operation, located on private property but accessible by the road that rises from Creede into the canyon. The other two photos are from the cemetery.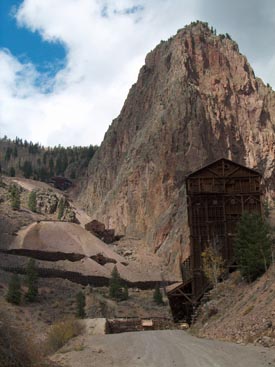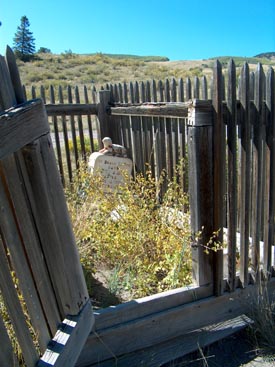 Web site maintained by Bradford Harrison