Ghost Towns
Animas Forks
St. Elmo
Floresta
Crystal City
Summitville
Holy Cross City
Alpine Tunnel
Vulcan
Shavano
South London
Independence
Ashcroft
Telluride
Alta
Carson
Tomboy Mine
Ironton
Iris
Bonanza
Silverton
Passes
Engineer Pass
Cumberland Pass
Mosquito Pass
Cottonwood Pass
Independence Pass
Ophir Pass
Monarch Pass
Imogene Pass
Cemeteries
Crested Butte
Whitepine
Glenwood Springs
Ophir
Creede
Exchequer

About Haunted at Timberline
About Mosquito Pass
Return to Mosquito Pass main page
At 13,182 feet, Mosquito Pass is the highest pass in America. In the opening photo you can see Leadville and, beyond, the mountains that lead to Aspen, including Independence Pass. During the Leadville boom, Mosquito Pass was flooded with gold seekers coming from points east, and was host to several stagecoach lines. Unfortunately, during the thick of winter the stagecoach lines didn't run but many eager though naive Easterners tried to make the trek anyway, unable to wait until spring. The road over the pass was soon dubbed "Highway of Frozen Death," and even today one gets an eerie feeling about the place—so barren, so high, and so inaccessible.
A tribute to John Dyer is found at the pass (shown in the photo below). It says:



J.L. "FATHER" DYER
METHODIST PREACHER..
..AUTHOR..
SOUTH PARK MISSIONARY
CARRIED MAIL AND GOLD
OVER THIS PASS — 1864
"THE SNOWSHOE ITINERANT"


Dyer came to Colorado from Minnesota in 1861. For twenty years he snowshoed among mining camps, preaching, including among Park City (Alma), Fairplay, and Leadville. Father Dyer died in 1901, but as a result of his legendary physical prowess he was inducted into the Colorado Ski and Snowboard Hall of Fame in 1977.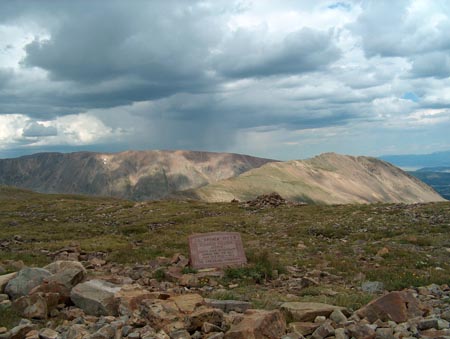 Web site maintained by Bradford Harrison